A few words about Miyu
Founded in 2009 by Emmanuel-Alain Raynal, Miyu Productions is a TV production company specializing in animation. They create short and feature films alongside TV series. Since its inception, the company carries a strict editorial direction for all its projects.
Miyu and Kitsu
In this customer story, Carole, Production Manager at Miyu, will tell us how she implemented Kitsu in her studio.
Carole, can you tell us more about you?
I have always been passionate about animation, I have worked in this field for 6 years. I love the diversity of the projects available. I had the opportunity to work on pre-school puppet production (Ollie and Moon), auteur feature films (Saules Aveugles, Femme Endormie), and US productions (Glitch techs).
I came back recently to Miyu as Production Manager. What I enjoy the most in this job is the fact you give life to the project and the initial vision of the Authors and Directors.
We make so artistic choices. our film can be done only because we have a solid team. My role is to support them and give cohesion to their work. We have to do beautiful pictures while dealing with economical constraints. To achieve that, I make sure all the talents can express themselves and do their best to ensure a great movie.
Which tools did you use prior to Kitsu?
We used the standard tools used in the industry, from the traditional and powerful Google Sheet to the tedious Shotgrid. SG is a gold mine for studios that can tweak it. It's good for them but on our side, we didn't have the resources for that. That's why we looked for an alternative.
How did you hear about our solution?
Kitsu was already implemented at Miyu when I arrived. I had to take it with my new job : ). At that time, Miyu was still testing it on small productions. And, I had never heard about it before. So I discovered it directly in production.
How did you get started with Kitsu?
When Miyu had its first feature film, the question of the tracking tool came. Other tools looked great but they required extra work to be fully functional. And, we needed a solution quickly. We were looking for something easy to start with, that would suit all the team members. The Google Sheets look like it would require infinite customization to achieve what we wanted. Especially after experimenting with SG (on another production) where it helped us in many aspects.  
Then, Tanguy, the Production Director, suggested using Kitsu for Blind Willow, Sleeping Woman. So, Gwen from CGWire came to the studio to show the whole team how Kitsu was working. It was very convincing: our decision was made!
Did you have any preconceptions before using it?
We made some tests, prior to using it for our first feature. At first, we found it a little bit hard to adapt to the software philosophy. But once, we were used to it, everything became smoother. We were surprised too to see how fast the artistic teams started with it. Even better, the CGWire team was really listening to our feedback. The software has evolved in a way that suits us.
What has changed in the studio since then, in your way of working?
It gives a common ground to each production. In a way, it mutualizes the tooling. Even if the pipelines change between productions, the basis is the same. So the main logic stays identical, which makes things much easier when switching from one project to another.  
For how long have you been using Kitsu?
Three years for Miyu, two years for me. Using it means adopting it. Once you start with it, you don't think about using something else!
Which features have impacted your workflow the most?
I think the review work is much easier with Kitsu thanks to the playlist system. The tool is good, especially because you can compare the building steps and the versions. It saves tons of time! You can build sequence reviews too, which allows making more accurate reviews without having to look for the right version for hours. It puts an end to the long night where I was looking for the right file versions in order to prepare the end-to-end needed for the weekly reviews.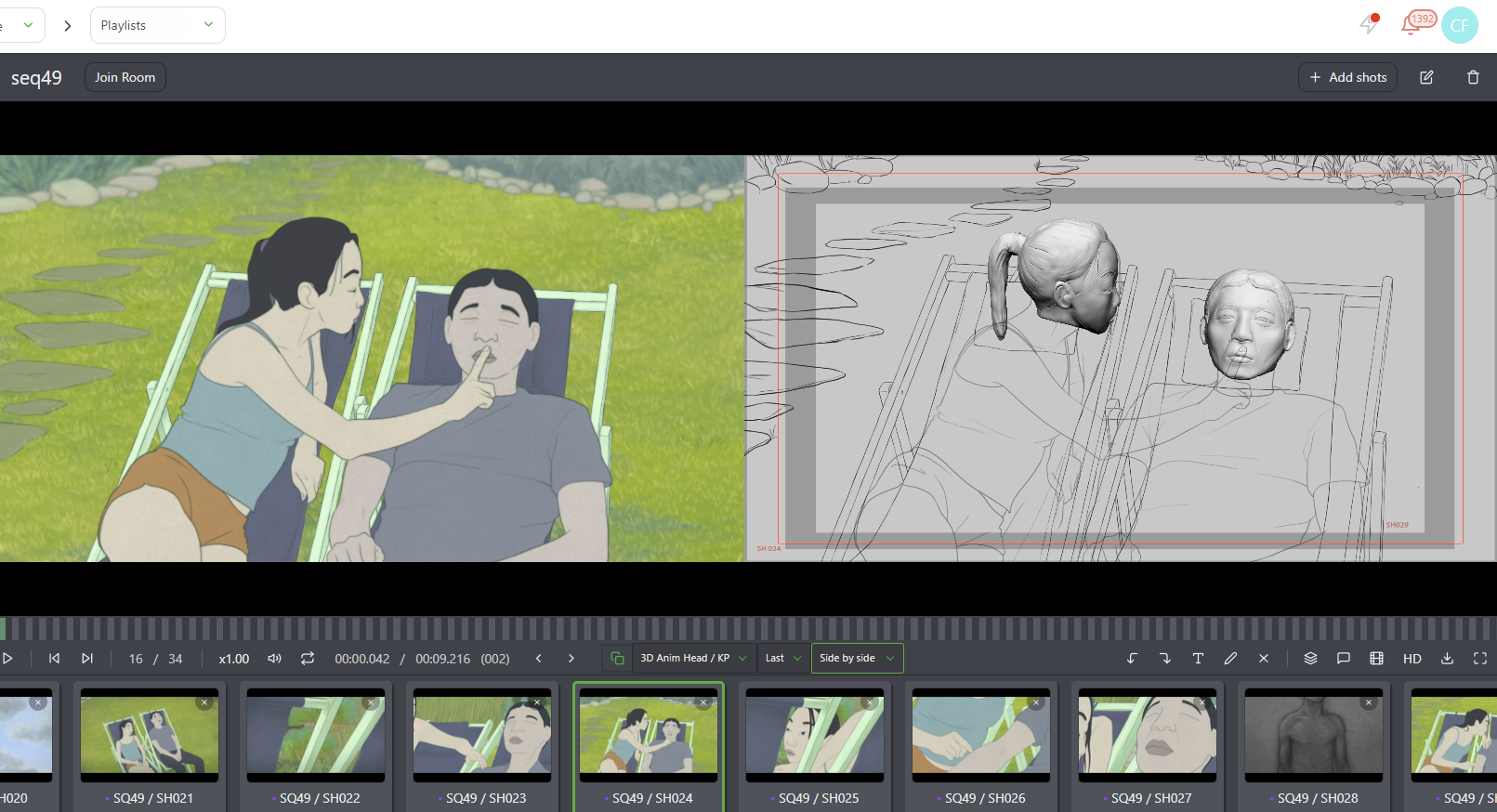 What are the benefits brought by Kitsu?
There are three main aspects to me:
When everyone updates its status regularly and sends their previews properly, we are able to gather all the data required for our reports. We can export them in a .csv file and turn them in the way we want. We don't need anymore to continuously ask for information from the artists.
Having on the same page all the building steps of a shot is really helpful. More widely, it's great that the production team and the artists can see how the production is progressing quickly without digging into five different places.
Its ease of use is its main strength. A few days are enough to understand the features require to run a production. Everyone starts quickly, especially artists who really enjoy it. We didn't notice this enthusiasm with the previous tools we used.
Can you give us some metrics about the time you saved with Kitsu?
You cannot quantify it. It simply makes everything smoother. It's just like having the right tool for the job.
Kitsu in two words?
Easy and handy!
Thank you Carole for this customer story! It's great that you were able to share insights about your studio and your experience with Kitsu. At CGWire we are super proud to have helped you with your projects. We wish you the best in the following.
If you want other stories, you can read the ones from Céline at Fost and from Fiona at Autour de Minuit.